The BFI Flare Film Festival is celebrating the 25th anniversary of the Oscar-winning classic The Adventures of Priscilla, Queen of the Desert. Phoebe Matthews looks at this iconic film and why it is so beloved.
The Adventures of Priscilla, Queen of the Desert stars Hugo Weaving (The Matrix, Lord of the Rings) and Guy Pearce (Neighbours, The Kings Speech) as two drag queens, and Terence Stamp as a trans woman who all travel across the Australian outback in a tour bus affectionately named Priscilla. The striking vistas of the Australian outback plains lay as their backdrop.
Each character is going through their own personal journey. Bernadette, (Terence Stamp) faces a vicarious new future now that her wealthy benefactor has passed away. Felicia (Guy Pierce) is young and enjoys flaunting her drag in people's faces to make them question their own fear of gender lines and issues. Meanwhile, Tick/Mitzi (Hugo Weaving), faces his past by getting the three of them to perform at his secret wife's club.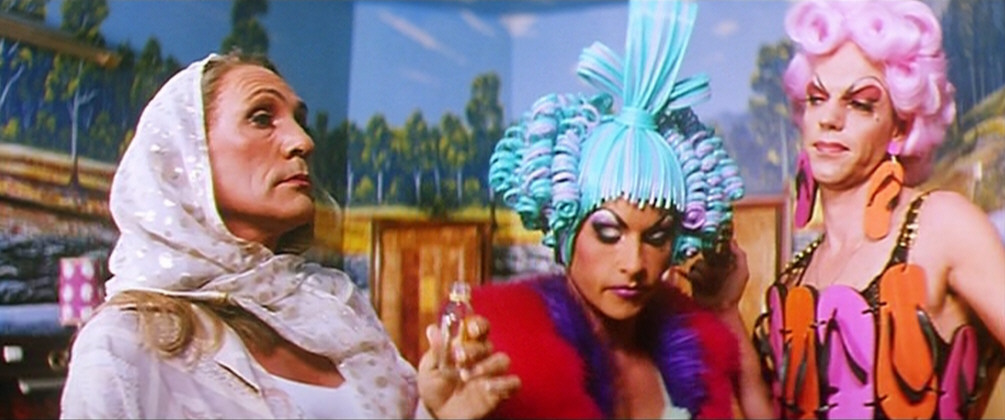 One of the most iconic elements of the film is the gorgeous outfits. As Felicia stands in a silver gown that flows out far behind them, one can only admire the gorgeous costuming by Tim Chappel and Lizzy Gardiner, a factor that won the film the oscar for costume design. Priscilla was the only film up until 2017 to win this award that wasn't a period piece.
Additionally, the beauty of these costumes are heightened by an outstanding soundtrack featuring the likes of Janet Jackson, The Village People, ABBA, and Vanessa Williams. The soundtrack is so good I still play it today, 25 years later.
However, the fact the movie is a quarter of a century old should not scare you away. Issues within the movie, are sadly still poignant to the LGBTQ+ community today.
Importantly, the film is hilarious without making fun of drag culture. Instead it is a loving tribute. Stephan Elliott, who wrote and directed Priscilla, made sure that his message and intent was maintained throughout the film – no matter what the studios suggested.
At a time when the industry believed actors who took on drag or trans roles were committing career suicide, each of the highly talented cast have proved that adage wrong. Guy Pearce has a Golden Globe nomination and multiple SAG nominations along with other awards. Hugo Weaving has become a staple in the movie cult world starring in two major cult followings: The Matrix and The Lord of the Rings Trilogy and Terence Stamp was even nominated for a Golden Globe for his performance in Priscilla as Bernadette.
Do not miss this opportunity to see The Adventures of Priscilla, Queen of the Desert at the BFI Flare Festival on Saturday 23 March 2019 at 20:40.