The 33rd Annual British Film Institute (BFI) Flare Festival starts Thursday 21st March with a showing of Chanya Button's Vita & Virginia which details the love affair between Vita Sackville-West and Virginia Woolf. The film stars Gemma Arterton (St. Trinians, Quantum of Solace) and Elizabeth Debicki (The Great Gatsby, Macbeth) as Vita and Virginia respectively.
The Festival then follows this with over 50 movies, over 80 short films and special events, guest appearances, club events, and more.

BFI have aimed to cover all aspects of LGBTQ+ life with a wide range of presentations and has divided the festival into three thematic strands: Hearts, Bodies and Minds.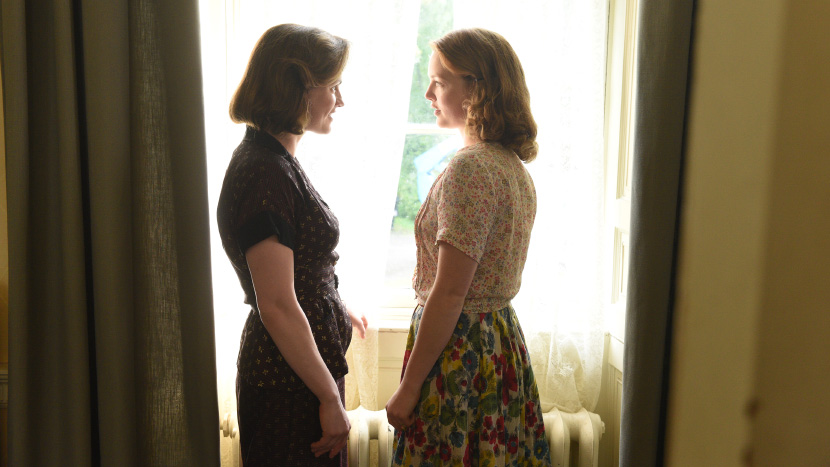 Hearts includes films about love, romance, and friendship. Various narratives are told, from facing the truth about one's own desires in From Zero To I Love You, to young Kenyan women attempting a relationship despite their illegal love in Rafiki.
Tell It To The Bees, adapted from Fiona Shaw's beloved novel, stars Anna Paquin (Almost Famous, X-Men) and Holliday Grainger (Anna Karenina, Cinderella) as two women who fall in love in Scotland in the 1950's.
If you're looking for films about the often under-represented identity of bisexuality, Two In The Bush: A Love Story is a charming rom-com in which bisexual Emily discovers the joys of polyamory in a relationship with her boss and her boss's partner. Alternatively, based on an original stage play by Lee-Ann Poole, Splinters is a Canadian drama about a young bisexual woman facing up to her rural past.
However not all the stories under the Hearts division is about romantic love. Friendship is also a key theme in the festival with films such as the comedy, Tucked, that depicts a blossoming friendship between two drag performers born 60 years apart. Additionally, Papi Chulo, starring Matt Bomer (American Horror Story, Magic Mike) explores the friendship between a heartbroken gay TV weatherman and an older straight migrant worker. More choice comes in old tensions resurfacing between four friends in the psychological drama Sunburn, while Marco Berger's The Blond One is about a tentative friendship between two young men which then blossoms into a beautiful bromance.
Other films within the category include the coming of age film Red Cow, where a 17-year-old girl's sexual and political awakening upsets her devoutly religious father. Men of Hard Skin is from Argentina and deals with abuse and Socrates, where a teenage orphan is forced to grow up quickly.
Bodies includes stories of sex, identity, and transformation and will include some ground breaking and award winning films. On the first Saturday of the festival, there will be the 25th anniversary screening of the Oscar-winning classic The Adventures Of Priscilla, Queen Of The Desert. Other critically acclaimed films include the winner of the Queer Lion at the Venice Film Festival, José , a rare portrait into gay life in contemporary Guatemala.
Bodies is explored in a wide range of ways in the festival from teen coming out stories in Giant Little Ones and Nevrland to the body of a young African-American woman, recently released from prison and searching for her father in Night Comes On.
If horror films are your interest, the festival includes showings of the Austrian thriller The Ground Beneath My Feet, where ghosts threaten a young woman's present, and Last Ferry, where a dream vacation to Fire Island becomes a walking nightmare.
Most notable within the bodies selection is the highlighting of trans narratives. No Box For Me: An Intersex Story follows activists as they advise medical specialists to recommend parents raise children with non-binary norms. The debut documentary, Man Made follows four bronzed and buffed contestants at the Trans FitCon. Finally, Little Miss Westie is a documentary that charts the progress of a somewhat alternative, trans-inclusive New England family with two trans kids in a beauty pageant.
Minds features reflections on art, politics, and community with many films about the minds of famous and ground-breaking LGBTQ+ creatives.
Mapplethorpe, a film about the legendary titular photographer stars none other than Matt Smith (Doctor Who, The Crown). Halston, is a documentary on the American fashion legend of the same name and includes rare archival footage. The work of legendary black gay filmmaker Marlon Riggs is celebrated with archive screenings of Tongues Untied and a selection of his short films. Making Montgomery Clift trawls through the Hollywood star's archives in search of the real Monty. Lastly, a 16mm portrait of a queer lucha libre wrestler is captured in Cassandro, The Exotico! .
Amongst this selection, there are films that also depict lesser known stories.
The Gospel Of Eureka is narrated by Mx Justin Vivian Bond and is a portrait of a Bible Belt town in Arkansas. United We Fan tells a story of ordinary people determined to save the television shows they love and Transmilitary follows four soldiers risking dismissal to fight for transgender rights in the US armed forces.
The festival also includes the latest documentary from Tomer Heymann, about gay porn star Jonathan Agassi, titled Jonathan Agassi Saved My Life.
The festival will then close with the European premiere of Justin Kelly's JT Leroy. Kelly's film is adapted from Savannah Knoop's memoir Girl Boy Girl: How I Became JT Leroy. The film stars Laura Dern (Jurassic Park, Big Little Lies), Kristen Stewart (Twilight), Diane Kruger (Troy, Inglorious Basterds), and Jim Sturgess (21, Cloud Atlas).

Throughout the festival there will also be debates and presentations on: "Trans Creatives At The Movies", "Lethal Lesbians", "Operation Spanner: Then And Now", and "Trans Representation On Screen".

The Festival then continues at the BFI FLARE CLUB NIGHTS (Fri 22nd, Sat 23rd, Fri 29th, Sat 30th and Sun 31st) at BFI Southbank's Benugo Bar & Kitchen with DJ's including: The Batty Mama, Debbie Does BFI Flare, Club Kali, Tony Dunne, and for the closing night party, Unskinny Bop.

A full film programme and tickets purchasing can be done here. The festival runs from March 21st to March 31st.